Motorbike Rental In Medan
Motorbike and Scooter Rental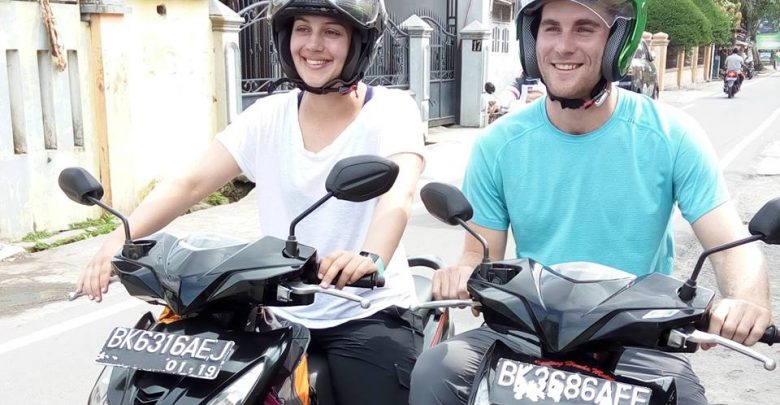 Motorbike and Scooter Rental in Medan
Ganda Rental is a motorbike rental company based in medan, North Sumatra Indonesia and we aim to serve domestic visitors, foreign visitors ,and private or government employes.
We are constantly innovating to best serve our costumers and our pledge is one of comfort and savety for anyone who rents from us. our motorbikes are all new models with prime quality engines and features.
 Whatsapp : +6281396466364
Price :
Type : automatic bike (scooter) 110 cc / 1 day : RP 75.000 ($6)
Type : automatic bike (scooter) 125 cc / 1 day : Rp 90.000 ($7)
Type : motorbike manual transmision 150 cc  / 1 day : RP  100.000 ($8)
Type : big scooter 155cc /1day : Rp.150.000 ($10)
*if u rent more than  10 days i will give discount.
Type of Motorbike:
Automatic motorbike 110 cc  : Honda beat Fi ,Honda Vario
Automatic motorbike 125 cc  : Honda Vario 125 , Yamaha Mio m3 125
Big motor manual 150 cc       : Honda Cb150R , Yamaha Byson , yamaha vixion , honda verza
Big scooter  155 cc                  : Yamaha Nmax, Honda PCX
Terms and condition :
must deposit your pasport or identity card
or u can deposit money minimum $100 ( we will return your money when motorbike is back )
Package :
The above items are all included in the rental price of the motorbike. Motorbike drop off and pick up is only available in the medan area.
I can send and pick up motorbike to your hotel or guest house , but u will get extra charge +-Rp 40.000 . If u rent more than 7 days free delivery and pick up (just in medan city) . I also can delivery it to kualanamu airport.Note:
You want to buy motorbike because want long trip out from sumatera ? i can help for search it. just mail me or whatsapp.
Want tracking in bukit lawang to see orang utan ?
Contact number :
+6281396466364 ( sms , line , whatsapp , wechat )
+628113229233 ( sms and whatsapp )
Instagram /twitter: @gandarental
facebook:  https://www.facebook.com/sewamotormedan/
email : margandaritonga@yahoo.com
Address:
Jl. Purwosari Gg. Puskesmas No.71 C
Or u can check it from google map "ganda rental motor medan"